Honestly, the Duke and Duchess of Cambridge have been reeling since the Caribbean Flop Tour in March. They're still talking about it and still pushing stories about how they – William and Kate – now believe that they need to modernize the monarchy and make everything less formal and fussy. Ever since they started pushing those stories, I have genuinely noticed a change in how British outlets write about them too. As in, so many people are just back to calling her "Kate Middleton." That wasn't what they meant though! William still wants people to call her Catherine. And Catherine still wants people to call her HRH the Duchess of Cambridge. She didn't waity all those years to hear people call her Buttons or Wiglet or Waity Katie. Anyway, that's just a sidenote. The real story is that Kate/Buttons is suddenly very worried that her children will have to work for the firm because everyone else will be too old to cover for them.
Kate Middleton faces a "painful dilemma" as her kids will carry the burden of ensuring the monarchy's future, a royal expert has claimed. George, Charlotte and Louis will be under "intense pressure" to fulfil duties as they get older thanks to dwindling numbers in the Firm, according to Daniela Elser.

The royal commentator reckons the three youngsters won't be given the same freedoms as Harry and Meghan, and therefore their children Archie and Lilibet – despite the aging workforce. And when George one day becomes king, demand on Charlotte and Louis will really ramp up.

Writing in the New Zealand Herald, Elser questioned how Kate must be feeling as mother when faced with such an uncertain future. She said: "The pressure on them is going to be intense to help ensure the survival of the British monarchy, an institution which can be easily traced back to the ninth century. Imagine having the weight of more than 1,200 hundred years of history constantly on your shoulders. It must be painful for Kate to know that while other kids look at the future with goggle-eyed wonder, her children's paths look set in Portland stone."

Elser added: "One thing that has never been speculated about or reported on in any of the approximately 8,774,573,498 stories about Megxit are any concerns they might have had leaving the Royal family short-staffed. There is no way that I can see that, at this stage, Charlotte and Louis will have anywhere near the latitude and freedom to ever make a similar choice. The only possible candidates to step in and help [George] carry the burden here are his siblings, meaning that like it or not, all three of the Cambridge children could very well be dragooned into working royal life whether they fancy the gig or not. That simple joy of imagining what you might be when you grow up is a privilege George, and very possibly Charlotte and Louis, will never really get."
Yeah, no one feels sorry for Kate in this specific regard. She and William did the most to ensure Harry and Meghan's exile and they spearheaded the smear campaign. They did it because they were short-sighted, bitter and jealous, and they wanted all of the attention, all of the glory, all of the embiggening. Now they've got it and there's nowhere to hide for them or their kids. When everything begins shifting around, that white hot spotlight is going to hit Will and Kate like never before. They won't even be able to use their children as human shields.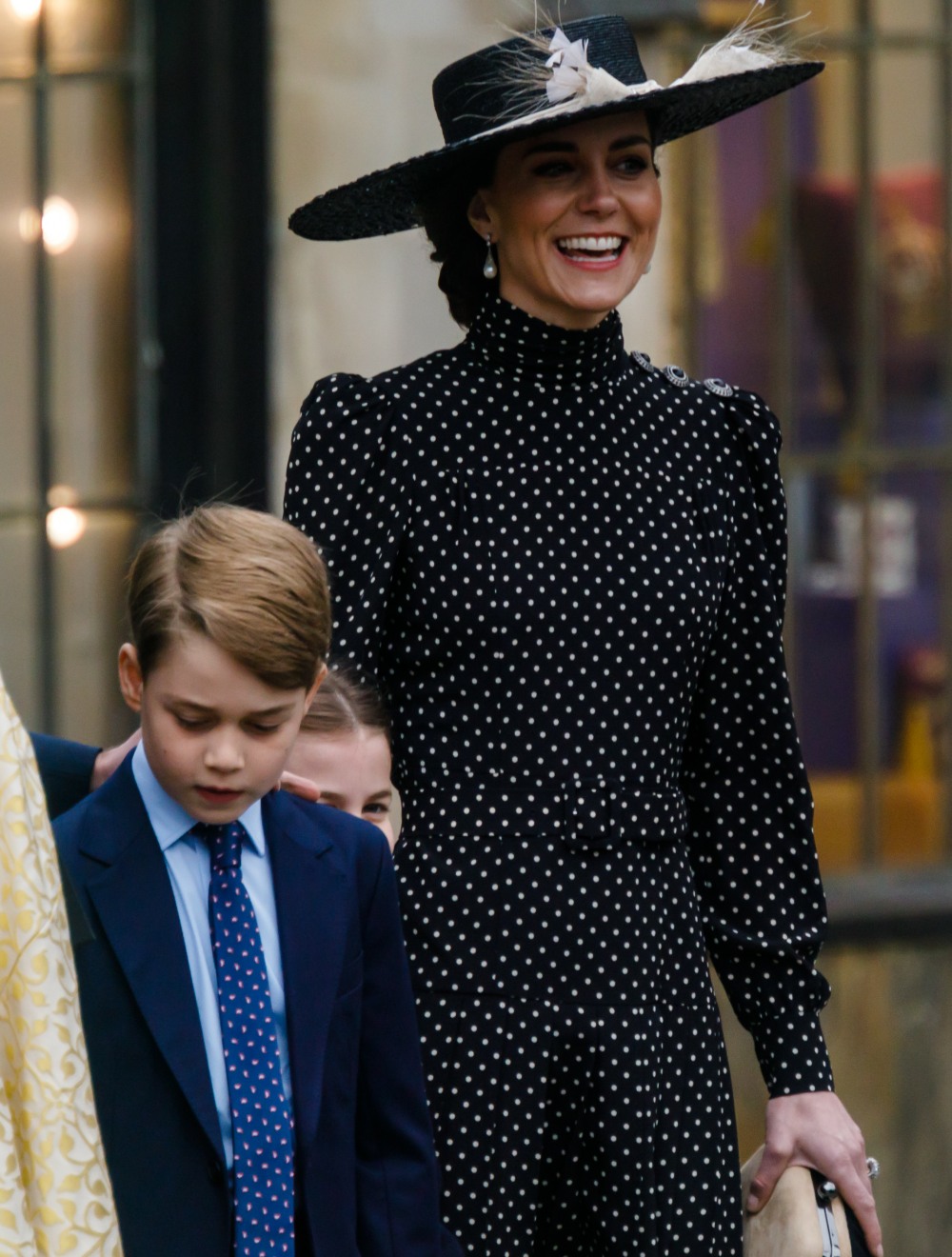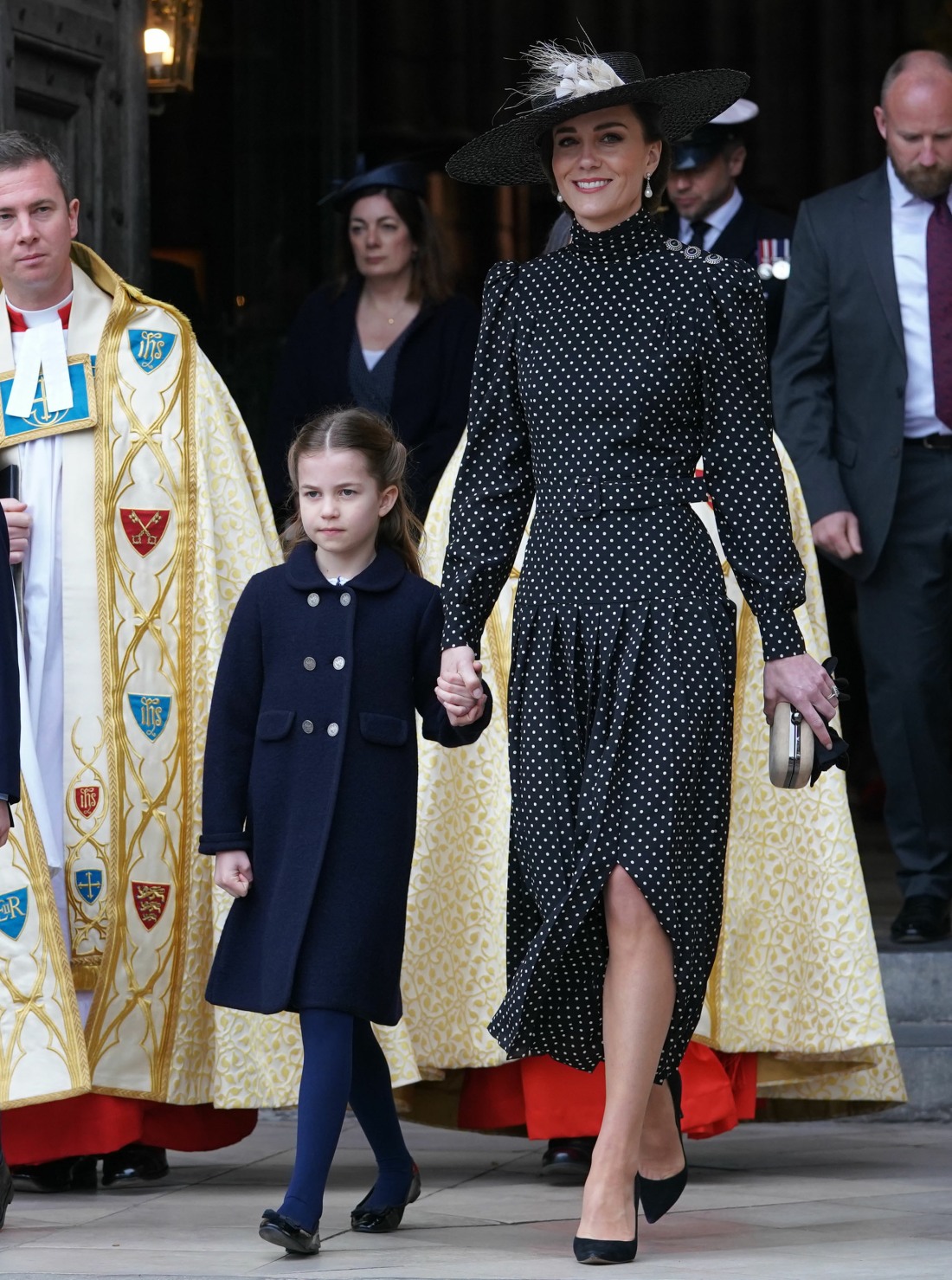 Photos courtesy of Avalon Red, Backgrid and Instar.
North America Rights Only – London, UK -20220329-

Service of Thanksgiving for the life of Prince Philip at Westminster Abbey

-PICTURED: Catherine Duchess of Cambridge
-PHOTO by: PA Images/INSTARimages.com

Disclaimer:
This is an editorial, rights-managed image. Please contact INSTAR Images for licensing fee and rights information at sales@instarimages.com or call +1 212 414 0207. This image may not be published in any way that is, or might be deemed to be, defamatory, libelous, pornographic, or obscene. Please consult our sales department for any clarification needed prior to publication and use. INSTAR Images reserves the right to pursue unauthorized users of this material. If you are in violation of our intellectual property rights or copyright you may be liable for damages, loss of income, any profits you derive from the unauthorized use of this material and, where appropriate, the cost of collection and/or any statutory damages awarded
For images containing underage children: Be advised that some Countries may have restricted privacy laws against publishing images of underage children. Inform yourself! Underage children may need to be removed or have their face pixelated before publishing
Netherlands and France Out – London, UK -20220329- Memorial Service of Thanksgiving for the life of Prince Philip at Westminster Abbey -PICTURED: Prince George, Prince William, Princess Charlotte, Catherine Duchess of Cambridge -PHOTO by: Dutch Press Photo/Cover Images/INSTARimages.com -51349565.jpg This is an editorial, rights-managed image. Please contact Instar Images LLC for licensing fee and rights information at sales@instarimages.com or call +1 212 414 0207 This image may not be published in any way that is, or might be deemed to be, defamatory, libelous, pornographic, or obscene. Please consult our sales department for any clarification needed prior to publication and use. Instar Images LLC reserves the right to pursue unauthorized users of this material. If you are in violation of our intellectual property rights or copyright you may be liable for damages, loss of income, any profits you derive from the unauthorized use of this material and, where appropriate, the cost of collection and/or any statutory damages awarded
North America Rights Only – London, UK -20220226- The Duke and Duchess of Cambridge, in her new role as Patron of the Rugby Football Union, with Prince George arrive to attend the England vs Wales Guinness Six Nations rugby match at Twickenham Stadium, London. -PICTURED: Prince George -PHOTO by: INSTARimages.com Disclaimer: This is an editorial, rights-managed image. Please contact INSTAR Images for licensing fee and rights information at sales@instarimages.com or call +1 212 414 0207. This image may not be published in any way that is, or might be deemed to be, defamatory, libelous, pornographic, or obscene. Please consult our sales department for any clarification needed prior to publication and use. INSTAR Images reserves the right to pursue unauthorized users of this material. If you are in violation of our intellectual property rights or copyright you may be liable for damages, loss of income, any profits you derive from the unauthorized use of this material and, where appropriate, the cost of collection and/or any statutory damages awarded For images containing underage children: Be advised that some Countries may have restricted privacy laws against publishing images of underage children. Inform yourself! Underage children may need to be removed or have their face pixelated before publishing
HRH Prince William – The Duke Of Cambridge and son Prince George depart a Service of Thanksgiving for HRH The Prince Philip, Duke of Edinburgh at Westminster Abbey, London, England, UK on Tuesday 29 March, 2022.,Image: 673801165, License: Rights-managed, Restrictions: Please credit photographer and agency when publishing as Justin Ng/UPPA/Avalon., Model Release: no, Credit line: Justin Ng / Avalon
(L-R) – HRH Prince William – The Duke Of Cambridge, son Prince George, daughter Princess Charlotte and HRH Katherine – The Duchess of Cambridge depart a Service of Thanksgiving for HRH The Prince Philip, Duke of Edinburgh at Westminster Abbey, London, England, UK on Tuesday 29 March, 2022.,Image: 673801180, License: Rights-managed, Restrictions: Please credit photographer and agency when publishing as Justin Ng/UPPA/Avalon., Model Release: no, Credit line: Justin Ng / Avalon
Princess Charlotte is introduced to clergy in Westminster Abbey by her mother the duchess of Cambridge as they arrive for the service of thanksgiving for the life of Prince Philip.,Image: 673808500, License: Rights-managed, Restrictions: NO UK USE FOR 48 HOURS- Fee Payable Upon reproduction – For queries contact Avalon sales@Avalon.red London +44 20 7421 6000 Los Angeles +1 310 822 0419 Berlin +49 30 76 212 251 Madrid +34 91 533 42 89, Model Release: no, Credit line: Avalon.red / Avalon
29th March 2022, Westminster Abbey, London, UK.
HRH Catherine, Duchess of Cambrige, and her eldest son, Prince George, leaving Westminster Abbey following the Service of Thanksgiving for the life of HRH The Prince Philip, Duke of Edinburgh, who died at Windsor Castle last year.
Amanda Rose/,Image: 673813075, License: Rights-managed, Restrictions: Supplied by AVALON – Fee Payable Upon Reproduction – For queries contact Avalon – sales@avalon.red London: +44 (0) 20 7421 6000 Los Angeles: +1 (310) 822 0419 Madrid: +34 91 533 4289, Model Release: no, Credit line: Amanda Rose / Avalon
Catherine Duchess of Cambridge, Prince George, Prince William, Duke of Cambridge, and Princess Charlotte attend the Easter Mattins Service, St. George's Chapel, Windsor Castle, UK – 17 Apr 2022,Image: 683742403, License: Rights-managed, Restrictions: , Model Release: no, Credit line: James Veysey/Shutterstock / Avalon
Members of the Royal Family Attend the Easter Service at St.George's Chapel, Windsor.

17th April 2022.
Duke and Duchess of Cambridge with the children arrive,Image: 683762746, License: Rights-managed, Restrictions: , Model Release: no, Credit line: Jeff Gilbert / Avalon
Westminster, UNITED KINGDOM – Service of Thanksgiving for the life of the Duke of Edinburgh at Westminster Abbey.

Pictured: Kate Middleton, Prince William, Prince George, Princess Charlotte

BACKGRID USA 29 MARCH 2022

USA: +1 310 798 9111 / usasales@backgrid.com

UK: +44 208 344 2007 / uksales@backgrid.com

*UK Clients – Pictures Containing Children
Please Pixelate Face Prior To Publication*
Westminster, UNITED KINGDOM – Service of Thanksgiving for the life of the Duke of Edinburgh at Westminster Abbey.

Pictured: Kate Middleton, Prince William, Prince George, Princess Charlotte

BACKGRID USA 29 MARCH 2022

USA: +1 310 798 9111 / usasales@backgrid.com

UK: +44 208 344 2007 / uksales@backgrid.com

*UK Clients – Pictures Containing Children
Please Pixelate Face Prior To Publication*
North America Rights Only – London, UK -20220329-

Service of Thanksgiving for the life of Prince Philip at Westminster Abbey

-PICTURED: Princess Charlotte, Catherine Duchess of Cambridge
-PHOTO by: PA Images/INSTARimages.com

Disclaimer:
This is an editorial, rights-managed image. Please contact INSTAR Images for licensing fee and rights information at sales@instarimages.com or call +1 212 414 0207. This image may not be published in any way that is, or might be deemed to be, defamatory, libelous, pornographic, or obscene. Please consult our sales department for any clarification needed prior to publication and use. INSTAR Images reserves the right to pursue unauthorized users of this material. If you are in violation of our intellectual property rights or copyright you may be liable for damages, loss of income, any profits you derive from the unauthorized use of this material and, where appropriate, the cost of collection and/or any statutory damages awarded
For images containing underage children: Be advised that some Countries may have restricted privacy laws against publishing images of underage children. Inform yourself! Underage children may need to be removed or have their face pixelated before publishing